Overview
Specification
Accessories
Product Resources
How to Buy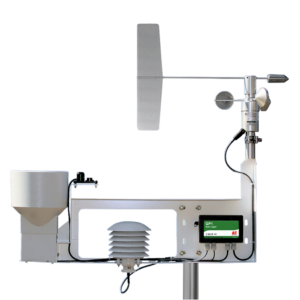 Zoom
Testimonials
""We have been using your weather station and DeltaLINK-Cloud platform as part of our GRACE research project, and we'd like to thank you for these high-quality products and the professional service we have received.""
Assoc. Prof. Vanja Jurišić, PhD and Mislav Kontek, mag. ing. agr. (me).
University of Zagreb Faculty of Agriculture

"Just to let you know that all of the Delta-T Devices weather stations we ordered have been working sweetly and are very durable against extremely strong gusts. A colleague came to visit the other day and now wants to order the same brand."
Shiyu Jiang, Research Assistant
Architectural Science Group, Cardiff University
Compact all-in-one automatic weather station
Highly portable
Unattended weather recording at remote and exposed sites
Compatible with DeltaLINK-Cloud data sharing platform
The WS-GP1 Automatic Weather Station includes high grade sensors to measure rain, solar radiation, wind speed, wind direction, relative humidity and air temperature. The system comes complete with the GP1 Data Logger and a 2m tripod mast.
DeltaLINK‐Cloud – online data viewing and sharing platform
Rapid installation
The WS-GP1 Automatic Weather Station is supplied pre-wired and pre-programmed and can be set up on-site in minutes. The system is delivered in two suitcase-style carry cases that can be used to store or transport the system. The cases are light enough for one person to carry.
Tough and dependable
Despite the low system cost, the sensors are dependable and suitable for use in demanding environments. The galvanised steel tripod and white painted stainless steel cross-arm ensure excellent physical strength. The system requires minimal maintenance.
The internal battery provides 6 month's operation (typical).
Easy data collection
Recorded weather data can be collected directly with a notebook PC, or remotely by optional cellular modem. In addition to the standard logging options, the WS-GP1 can log and display wind rose, gusts, averages (including vector average) and maximum and minimum readings, with times of occurrence. The GP1 Data Logger can store >600,000 readings.
The WS-GP1 Automatic Weather Station is an excellent choice for research or agricultural and environmental applications where reliable and accurate weather data is required.

Specification
Specification
Range / Note
Wind speed D-034B-CA (combined wind sensor)
Range
0.4 to 75 m.s-1
(0-167 mph)
Accuracy
± 0.1m.s-1
Up to 10.1 m.s-1
± 1.1% of reading
Over 10.1 m.s-1
Starting threshold
0.4 m.s-1
-30° to +70°C (if icing minimal)
Wind direction D-034B-CA (combined wind sensor)
Accuracy
±4 degrees
0.5° (resolution)
Mechanical: 0 to 360°
Electrical: 0 to 356°
Starting threshold
0.4 m.s-1
-30° to +70°C (if icing minimal)
Rainfall RG2+WS-CA
Sensitivity
0.2 mm/tip
160 mm funnel diameter
Humidity RHT3nl-CA (combined air temp sensor)
Accuracy
± 2% RH
5 to 95% RH[1]
± 2.5% RH
<5%, >95% RH
Air temperature RHT3nl-CA (combined RH sensor)
Accuracy
± 0.3°C
-20 to 70°C
Solar radiation D-PYRPA-CA
Accuracy
± 5%
0 to 1.1 kW.m-2
300 to 1100 nm
Cosine response
± 1% at 45°
± 4% at 75°
At zenith angle
Data recording and power
Logging frequency
1 s to 24 hr
Logging status indicated by flashing LED
Comms
To PC or laptop
RS232, USB[2] or modem
Battery life
9 V alkaline
190 days typical, reading every 5 minutes
Physical
Environmental
IP65 sealing
Temperature
-20 to +60°C
If icing minimal
Cross-arm
White-painted stainless steel
Fits horizontal. or vertical pole (42-52 mm diameter.)
Weight
14.3 kg
Complete with 2 m tripod and ground stakes
[1] At 23°
[2] With USB to RS232 Adapter Cable type USB-RS232
Accessories
Main components and software
Mountings and enclosures
Cables and networks
Spares and consumables
Product Resources
Data Sheets
WS-GP1 Weather Station Data Sheet

2 MB

DeltaLINK-Cloud - online data viewing and sharing service

2 MB

Environmental and Meteorological Sensor Specifications

5 MB
Software