The SPN1 is a highly capable compact pyranometer with a unique no moving parts design. This makes it an affordable and effective alternative to more costly and mechanically complex instruments such as shade-ring pyranometers.
The SPN1 Measures both direct and diffuse solar radiation. It also provides sunshine duration, and enables calculation of DNI (Direct Normal Irradiance).
Below are a four examples of how researchers and PV engineers have been using the SPN1 Pyranometer.
MOSAiC: The Largest Ever Polar Research Expedition
MOSAiC (Multidisciplinary Drifting Observatory for the Study of Arctic Climate) was the first year-round expedition into the central Arctic exploring the Arctic climate system. The project, with a total budget exceeding €140 Million, took place in 2019 and was organised by an international consortium of leading polar research institutions.
The SPN1 Sunshine Pyranometer was amongst the instruments being used on the expedition – providing crucial data to support detailed analysis of the Arctic environment (as the epicentre of global warming) to gain fundamental insights about the nature of global climate change.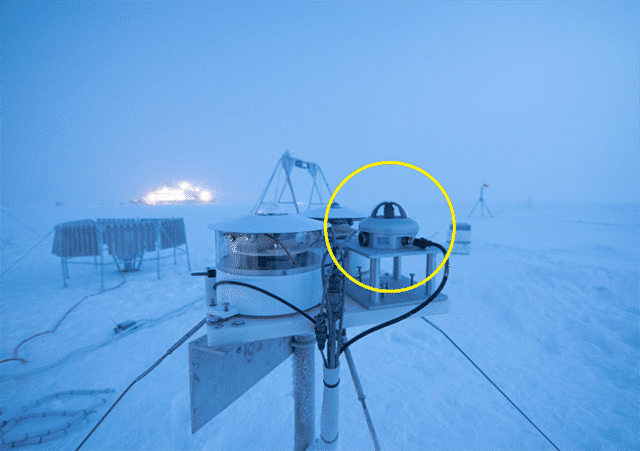 Over 500 scientists from 20 countries were involved in the expedition, which was focused on a research icebreaker ship operating close to the North Pole for 12 consecutive months. The meteorological and environmental data gathered is providing scientists with critical new information regarding global warming.
The SPN1 was specifically deployed by the expedition team (as part of the U.S. Department of Energy's Atmospheric Radiation Measurement (ARM) IceRad system*) to measure global and diffuse solar radiation – alongside sunshine hours.
Saildrone: Data Gathering Oceangoing Autonomous Surface Vehicles
The SPN1 Sunshine Pyranometer was used to record solar radiation data aboard two Saildrones on a six-month, 4,000 nautical mile mission to the equator and back. An expedition that extended the work of the existing Tropical Pacific Observing System. These SPN1 enabled saildrones also participated in a larger field study with NASA.
Saildrones (one pictured below with an SPN1 fitted) are autonomous uncrewed surface vehicles, which can be remotely programmed and fitted with a wide variety of measurement sensors. Launched and retrieved from a dock, each Saildrone navigates to its destination using wind power alone, travelling at 3-5 knots. This exciting new technology makes it possible to perform important ocean-based research at a fraction of the cost of traditional methods and is already being used to collect data for environmental monitoring, meteorological studies, and fish-stock analysis projects.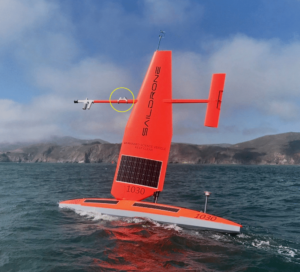 Saildrone Images courtesy of Jennifer Keene, NOAA PMEL
The mission's core aim was to assess whether the Saildrones could provide meteorological measurements at a quality that matches proven mooring technology. This goal was achieved, with comparisons of saildrone and moored buoy data** showing excellent agreement for all physical measurements including solar radiation.
The findings of the expedition suggest that Saildrones can become a powerful and cost-effective new method for providing key observations for long-term weather forecasts.
Université de La Réunion: Monitoring an Active Volcano
Researchers from Université de La Réunion installed a SPN1 Sunshine Pyranometer as part of a weather station on the crater's edge of one of the most active volcanoes in the world. The volcano, named Piton de la Fournaise "Peak of the Furnace" lies on the south-eastern side of Reunion Island, a French island in the Indian Ocean.
On June 13th, 2016, Patrick Jeanty, and research colleagues from the Université de La Réunion's LE2P team (LE2P: Laboratory of Energetic, Electronic and Processes), ascended the volcano. Each team member carried approximately 20kg of equipment up the 1.5 hour climb to reach the rim of the crater, which sits at an elevation of 2587m.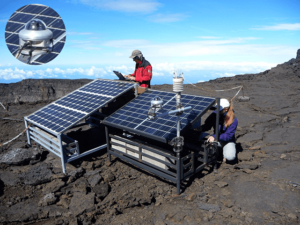 Over the course of 2016 the volcano was constantly monitored by a range of geophysical sensors, which sent data to the OVPF (Observatoire Volcanologique du Piton de la Fournaise). Long term monitoring by two downward-looking infra-red video cameras was supplemented by an upward-looking SPN1 Sunshine Pyranometer. Data from the SPN1 was used to help eliminate the effect of solar radiation on the infra-red camera readings.
The LE2P team had previously worked with the SPN1 Pyranometer on a separate long-term project – using data from a network of SPN1s (spread across Réunion Island) to assist in efficient management of the island's electricity grid, which is largely powered by renewable resources.
China Three Gorges Corporation: Monitoring a 200MW Solar Farm
The China Three Gorges Corporation, one of the world's largest renewable energy companies, uses the SPN1 Sunshine Pyranometer to monitor the performance of its huge solar farm project in rural Quyang district – 230km southwest of Beijing. The solar farm is being constructed on more than 40 square kilometres of steeply undulating, uncultivated land and is China's largest photovoltaic program in a mountainous area.
The farm already has potential to produce 200 MW, and local government have signed contracts with PV developers worth over RMB12 billion (1.94 $ billion) to create over 1 GW of solar generating capacity at the site.
* Case study permission courtesy of NOAA PMEL and Communications Dept, The Atmospheric Radiation Measurement user facility, U.S. Department of Energy (DOE)
** Zhang et al. (2019)