Overview
Specification
Accessories
Product Resources
How to Buy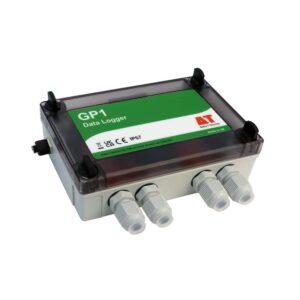 Zoom
Testimonials
Monitor soil moisture and other key growing conditions
Use data to optimise irrigation
Directly control irrigation using onboard relay
With the GP1 Data Logger it is possible to control irrigation, with measurable water savings of up to 60% achievable without reductions in yield or decline in quality.*
Irrigation can be controlled using combined sensor inputs – soil water, temperature, RH, rainfall, volume of water applied – with or without clock inputs.
The GP1 is also a versatile general purpose 7 channel data logger.
Benefits
The benefits of optimising crop irrigation can include reduced water use, less fertiliser, reduced run-off, lower pumping costs, better crop quality and reduced labour cost – all leading to increased profits.
NB: Our GP2 Advanced Data logger and Controller offers even more advanced irrigation control capabilities.
* DEFRA WaterLINK (HL0168LHN)

Specification
Input connections
2 voltage channels
2 temperatures or 2 additional SM150T Sensors [3]
2 counters (33 kHz & 50 Hz)
1 WET Sensor
Control outputs
1 relay (1 A)
Readings stored
600,000
Recording rate
1 second to 24 hours
Configuration
DeltaLINK
Communication options
RS232 USB [1] or modem
Sensor excitation
1 switched logger power
1 5 V precision reference
Power
9 V 6LR61 (PP3) alkaline or external power 11-24 V
Battery life (dependent on usage)
>76k readings
lasting >130 days
Enclosure rating
IP67
Temperature range
-20 to +60°C
Display
–
Size
140 x 105 x 45 mm
Typical applications
Monitoring soil moisture
General data logging
Controlling irrigation
Sensor compatibility (maximum number of sensors that could be connected [2]
ML3
✓ (2) with temp ✓ (4) excl. temp [3]
SM150T
✓ (2) with temp ✓ (4) excl. temp [3]
PR2
–
PR2 SDI-12
–
WET Sensor
✓(1)
EQ3
✓(2 as mV only)
Temperature
✓(2)
Tensiometers (bridge sensors)
✓(2) each requires GP-PBA-X50
Counters or Events
✓(2) 1 fast 1 slow
Relay Output
✓(1)
[1] With USB to RS232 Adapter Cable type USB-RS232
[2] With appropriate expansion cards and power supply arrangements
[3] Temperature channels provide only single-ended inputs so should not be used with long cables or in noisy environments when used with soil moisture sensors. The accuracy figures quoted for GP1 soil moisture readings do not apply to these resistance channels when configured as soil moisture inputs.
For full GP1 specification please see the GP1 data sheet or Quick Start Guide
Accessories
Main components and software
Mountings and enclosures
Cables and networks
Power options
Product Resources
Data Sheets
GP1 Data Logger Data Sheet

2 MB

WS-GP1 Weather Station Data Sheet

2 MB

DeltaLINK-Cloud - online data viewing and sharing service

2 MB

Environmental and Meteorological Sensor Specifications

5 MB

WS-GP1 Weather Station - Quick Slide Show

1 MB
Case Studies
Seven brief Delta-T Devices soil moisture measurement case studies