Overview
Specification
Accessories
Product Resources
How to Buy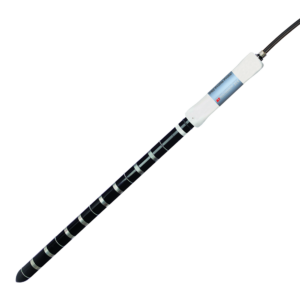 Zoom
Testimonials
"Soil moisture is an important parameter for many of the processes studied in our research – especially at depths below the immediate surface soil. For this reason we have been using the PR2 Profile Probe to measure moisture profiles down to one metre for many years. The PR2 measures soil moisture at varying depths on a total of 240 experimental plots across the Jena facility. The readings are taken on a weekly basis in the spring and summer, and on a bi‐weekly basis in the autumn and winter."
Dr Anne Ebeling,
Scientific Coordinator at the Jena Experiment, Germany
(DFG-funded Research Unit)
Portable, accurate soil moisture profiles to 1m depth
Portable meter option for multi-site measurement
Uses access tubes for easy probe insertion and removal
No other soil moisture probe system enables you to monitor your soil water profiles with such ease and flexibility. Install an access tube into the soil, insert the PR2 Profile Probe and press the HH2 [Read] button to display an instantaneous reading. Alternatively, connect the PR2 to a data logger (GP2 or DL6) and leave the system to record soil moisture changes over time.
Video – Introduction to PR2 Profile Probe
The PR2 Profile Probe is built around patented sensing technology which provides excellent performance in all soil types, with minimal influence from either salinity or temperature. The PR2/4 model measures soil moisture at 4 depths down to 40 cm – the PR2/6 measures at 6 depths down to 100 cm.
The PR2 Profile Probe access tube requires an installation hole 27 mm in diameter, allowing easy installation and minimal soil disturbance. Access tubes are manufactured to strict tolerances and are exceptionally strong and durable in the soil. Correct installation is essential and we recommend the use of our specially designed augering equipment.
The PR2 Profile Probe is available in two sizes to measure to a depth of 40 cm or 100 cm.
The PR2/4 has sensing elements at 10/20/30/40 cm
The PR2/6 has sensing elements at 10/20/30/40/60 and 100 cm
Complete Auger Kit
Access tube installation is vital.
Click here for information about our augering equipment
Further information
The PR2 Profile Probe is also well suited to research applications in horticulture, hydrology, crop science, and water use efficiency. For further details click here.


Specification
For Analogue PR2 and SDI-12 PR2



Measurement
Volumetric water content
Accuracy
± 0.04 m3.m-3 (4%)
With soil-specific calibration
Soil moisture measurement range
Full accuracy over:
0 to 0.4 m3.m-3
Full range : 0 to 1.0 m3.m-3
Salinity range
50 to 400 mS.m-1
Salinity errors included in calibration
Temperature range
Full accuracy over: 0 to 40°C
Output

(ANALOGUE)


0 to 1.0 V differential
PR2/6: x6 outputs, PR2/4: x4

(SDI-12)


Digital

Power requirement

(ANALOGUE)


5.5-15 V,
PR2/6: ~120 mA for 1s
PR2/4: ~80 mA for 1s
__________________________
Minimum 7.5 V with 100 m cable
(SDI-12)
Power consumption <60 mA at 12 V DC
Sleep current <2 mA at 12 V DC
Environmental
IP67 (when installed in access tube)
Sample volume
-95% sensitivity within a cylinder of diameter 200mm
Sample volume is weighted towards soil immediately surrounding the rods
Dimensions and weight
PR2/6: length 1350 mm
PR2/4: length 750 mm
Both: 25.4 mm diameter
PR2/6: weight 1.2 kg
PR2/4: weight 0.8 kg
Sensor calibrations
Individual sensors are interchangeable
Recalibration advised every 3 years (depending on use)
Soil calibrations
Generalised Mineral and Organic soil calibrations are supplied
Accessories
Hardware
Main components and software
Cables and networks
Spares and consumables
Product Resources
Data Sheets
Case Studies
PR2 Futmon Case Study

638 KB

Download

Filename: pr2_futmon_case_study_ver_1

The Jena Experiment - extensive use of PR2 Profile Probe in major ecosystem research project

4 MB

The Jena Experiment is a long‐term biodiversity focused research project funded by the German Research Foundation (DFG). The PR2 Profile Probe has been an important part of the Jena Experiment's sensor network for nearly the entirety of the long running project.

Download

Filename: The_Jena_Project_case study_PR2_Profile_Probe_08.02.21

Seven brief Delta-T Devices soil moisture sensor case studies
Videos
FAQs
How do I use the augering equipment and take measurements with a PR2 Profile Probe? – Video Guide

Question

How do I use the augering equipment and take measurements with a PR2 Profile Probe? - Video Guide

Answer

We would always recommend reading through the PR2 profile probe user manual and our augering user manual for the most up to date information on this topic. In addition, we have released this video to help:

How can I create soil-specific calibrations for my PR2 Profile Probe?

Question

How can I create soil-specific calibrations for my PR2 Profile Probe?

Answer

The Profile Probe User Manual recommends that you use a Theta Probe (ML2x or ML2) to do a two-point soil-specific calibration.

You need to measure the moisture content of a wet sample of your soil, using the Theta Probe, and then oven-dry the sample and measure its water content once again.

The process is fully described in the Theta Probe User Manual and is also available in a detailed application note available from Delta-T. This should enable you to decide if the possible gain in accuracy is worth the additional effort of the calibration.

If you do not possess a Theta Probe, please contact your distributor or Delta-T for advice. The User Manual is available by email in electronic Acrobat pdf file format (and may be available for download from the Delta-T website).
Regulatory Information
PR2 Profile Probe EC Declaration of Conformity

34 KB

Download

Filename: pr2-profile-probe-ec-declaration-of-conformity