Overview
Specification
Product Resources
How to Buy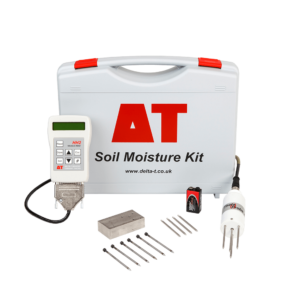 Zoom
Testimonials
"After 32 years of greenkeeping I thought I had a handle on the moisture requirements of my surfaces. Like most greenkeepers, I relied on a combination of experience and on-site weather data to determine irrigation requirements. But when I started to measure soil moisture content with the ML3 ThetaKit and compared the figures against irrigation inputs, the numbers just didn't add up. At times I was over-irrigating, even though experience was telling me I was spot on. Using the ThetaKit has enabled me to apply less water, more frequently, leading to potentials savings - with the added benefits of a drier rootzone. Simply put, being armed with accurate soil moisture information has allowed me to make better agronomic decisions."
Paul Brown, Course Manager
Fulwell Golf Course, Middlesex
Rapid, accurate measurement of water content in soil
Used by many of the world's leading golf courses and sporting venues
Soil moisture with ± 1% accuracy
Supplied in a convenient carry case, the ThetaKit (based around the ML3 ThetaProbe Soil Moisture Sensor) contains everything you need to obtain accurate soil moisture measurements.
The kit comes complete with a dedicated HH2 Moisture Meter for instant readout, an insertion tool for penetrating hard soils, and a set of spare replacement rods. With a proven reputation for reliability and robustness plus class leading 1% accuracy, the ML3 continues to set the standard for fast, easy soil moisture measurement.
Video – Using the ThetaKit to optimise turf health and playing surface quality
Sports Turf User Guide – co-authored with the STRI
The leading international sports turf consultancy, STRI (Sports Turf Research Institute), provides independent advice to around 2,100 sports clubs and leisure facilities every year. Delta-T Devices has partnered with the STRI to produce a ThetaKit User Guide. This 8 page guide makes extensive use of photos and diagrams to help greenkeepers and other sports turf professionals make the most of their ThetaKit.
Click here to download the guide.
ThetaKit – the ideal tool for turf professionals
For over fifteen years the ThetaProbe Soil Moisture Sensor has gained a reputation among scientific researchers worldwide for its accuracy, stability, and robustness. This research grade performance is now available to turf managers – offering an unrivalled level of accuracy for the determination of soil water content.
With the ThetaKit it is possible to rapidly check irrigation uniformity and turf characteristics. Regular measurement of soil moisture content allows continual assessment of grass health – giving early warning of potential problems and enabling the turf manager to take preventative action – before damaging physical change in the turf has occurred.
Use the ThetaKit to:
Spot check soil moisture content quickly and easily
Identify areas too dry or too wet before turf problems become visible
Quantify background levels of water content that underpin good turf performance
Schedule optimised irrigation
Check the performance of automatic sprinklers and the uniformity of water application
Please note that although the ML3 has a built in temperature sensor, temperature can only be recorded if the probe is connected to a data logger (and the probe is fully buried). The HH2 Meter is unable to provide temperature indication.
Highly accurate yet very easy to use
With the ML3 ThetaProbe Soil Moisture Sensor it's easy to make reliable, accurate soil moisture measurements. Simply insert the soil moisture probe into the soil, switch on the HH2 readout meter, and within seconds you can be logging soil moisture.


Specification
Measurement
Volumetric water content and soil temperature
Accuracy
± 0.01 m3.m-3 (1%)
With soil-specific calibration
± 0.5°C (0 to 40°C for temp sensor)
± 0.75°C (-20 to +60°C for temp sensor)
Soil moisture measurement range
Full accuracy over:
0 to 0.5 m3.m-3
Full range : 0 to 1.0 m3.m-3
Salinity range
50 to 500 mS.m-1
Salinity errors < 0.035 m3.m-3 from 0.05 to 0.4 m3.m-3. Can be calibrated up to 2000 mS.m-1
Temperature range
Full accuracy over: 0 to 40°C
Output
0 to 1.0 V differential
Corresponding to 0 to ~0.6 m3.m-3
Resistance 5.8Ω to 28Ω for temp sensor
Power requirement
5-14 V, ~18 mA for 1s
Minimum 5.5 V with 100 m cable
Environmental
IP68 (-40 to +70°C)
Sample volume
~60 x 30 mm diameter
Sample volume is weighted towards soil immediately surrounding the rods
Dimensions and weight
Overall: 158 x 40 mm diameter
Rods: 60 mm x 3.2 mm diameter
(Rods are replaceable)
Weight: 0.1 kg (exc. cable)
Sensor calibrations
Individual sensors are interchangeable
Recalibration advised every 3 years (depending on use)
Soil calibrations
Generalised Mineral and Organic soil calibrations are supplied
HH2 Meter
| | |
| --- | --- |
| Input connections | 1 water content sensor or 1 WET Sensor |
| Control outputs | – |
| Readings stored | 1,500 |
| Recording rate | – |
| Configuration | By keypad |
| Communication options | RS232 / USB [1] |
| Sensor excitation | 1 switched battery |
| Power | 1 9V 6LR61 (PP3)alkaline |
| Battery life (dependent on usage) | ~ 5,000 readings |
| Enclosure rating | IP54 |
| Temperature range | 0 to +40°C |
| Display | 2 line x 16 character |
| Size | 125 x 80 x 45mm |
| Typical applications | Instantaneous reading of soil moisture / profiles/ WET Sensor |
Accessories
Main components and software
Product Resources
Data Sheets
Case Studies
Seven brief Delta-T Devices soil moisture sensor case studies
Videos
Manuals
FAQs
Are Delta-T soil moisture sensors waterproof? Can they be buried? (SM150T ML3 ThetaProbe)

Question

I see that the environmental protection rating for Delta-T soil moisture sensors is IP68. In practical terms what does this mean for the performance of the sensors and their cable connections, and can they be buried?

Answer

The IP68 Standard
The IP standard defines the degree of protection against the entry of water and dust that an instrument has. The first digit corresponds to performance for dust protection, the second figure for the level of water resistance. A rating of IP68 means that a device is completely sealed against dust and that it can withstand complete and continuous submersion in water. More information on the standard can be found here: https://en.wikipedia.org/wiki/IP_Code.
When Delta-T develop products for use in the field, we not only aim to meet the requirements of relevant IP standards, but, where possible, to surpass them. Our product design and testing aims to establish the highest performance we can achieve for the sensor and the cable connection.

Sensor sealing
During the design of the *SM150, SM150T, *SM300 and ML3 sensors, extensive water resistance tests were performed with reference to IP68 standards. Thermal shock tests were also carried out, which involved continuously monitoring the humidity inside the sensor as it was subjected to temperatures above 100OC before being plunged into ice cold water. It was demonstrated that, even under these harsh 'shock' regimes, the sensors showed no signs of water ingress.

M12 connector sealing
During the design stage of the ML3 ThetaProbe (our most recently released sensor) we completed a comprehensive range of tests on the M12 cable connector (also fitted to several other Delta-T soil moisture sensors) to ensure satisfactory water resistance when submerged in water at depth.These tests will continue and results made available. Test results so far indicate that the M12 connection with the soil sensor can withstand burial to a depth of 2m – providing care is taken to ensure the connectors are clean and dry when assembled, and that they are hand-tightened securely.

Routine production testing
*SM300s, *SM150, SM150T and ML3 sensors are batch tested using the hot water leak test – which involves submerging a proportion of sensors from a manufacturing batch in a 60°C water bath for a fixed time whilst checking for bubbles emerging from the sensor or connector. In terms of pressure, this treatment is comparable to an immersion in 1.4m depth of water. We have determined that this an acceptable test to discover assembly errors.

5 year warranty
All Delta-T products will benefit from a 2 year warranty. However, for additional peace of mind, once you have registered your SM150T or ML3 soil moisture sensor with us, the warranty increases from 2 years to 5 years.

*SM300 and SM150 are now discontinued