Overview
Specification
Accessories
Product Resources
How to Buy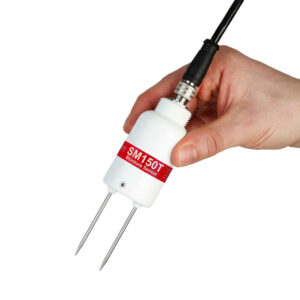 Zoom
Testimonials
"Just to let you know that I've been delighted with the performance of the SM150T soil moisture sensors and accompanying GP2 data logger. They have been in action at an escarpment site in Iceland over a 2 year period - and have provided some extremely useful data."
Nick Cutler
Lecturer in Physical Geography
University of Newcastle
"Working with Delta-T Devices, we installed two arrays of SM150T soil moisture sensors at varying depths - in selected well-managed plantations in the Santa Marta region of Colombia.

Choosing equipment that you have complete trust in to record the data you need, and, importantly, technical backup when challenges arise, were fundamental requirements for us. When you are running out of time (and daylight) in a remote banana field it was reassuring that someone at Delta-T was responding so quickly to our technical questions.

The Delta-T devices kit has been first class – it has not missed a beat since we installed the equipment. We now plan to leave the SM150T sensors in-situ after the project to continue developing our understanding of the soil-water fluxes under banana crops." Prof Jerry Knox
Cranfield Water Science Institute,
Cranfield University, UK
"We recently purchased fifteen SM150 units. They are working excellently and are proving to be very robust and resilient."
Aaron Schmocker
Bern University of Applied Sciences
"We used the instrument for 4 days of intense field work at 15 conservation areas across the Greater Toronto area - more than 200 readings per day. The sensor proved to be an invaluable asset to our research project. It is fast, light weight and very energy efficient."
Nao Ito, Graduate Student
York University, Toronto
Stable and accurate (± 3%)
Robust and buriable with 5 year warranty*
Accurate substrate moisture monitoring
Ideal for precision irrigation
The SM150T is an affordable soil moisture and temperature sensor that is ideal for system integrators
SM150 Sensor – a versatile sensor for growers and system integrators
The SM150T is the perfect sensor for a wide range of applications in horticulture and agriculture. It can be used in both soils and substrates and is buriable. In addition, the SM150T offers excellent salinity and temperature stability.
The SM150T is a reliable and cost-effective solution for system integrators, who appreciate its ease of installation and simple interface (0 – 1 V DC output).
SM150 Kit – for instant readings
The SM150 Kit combines the SM150T Sensor with a handy readout meter, providing growers with a low cost, portable, and easy to use tool for obtaining instant accurate moisture measurements. Find out more about the SM150 Kit.
NB: When used in portable mode the SM150T Sensor does not provide temperature indication. To record temperature the sensor must be fully buried and connected to a suitable data logger.
Easy installation
The SM150T's sharp pins minimise soil disturbance, preserving the original soil structure around the measurement rods, and making the probe easy to insert and install. For burial at depth the cylindrical shape facilitates installation in augered holes. Optional extension tubes assist with placement and removal (50 cm and 100 cm lengths, connectable).
Applications
Horticulture – In kit form (see SM150 Kit) the SM150T Sensor comes with calibrations for mineral, peat mix, coir, mineral wool and perlite (plus also provides raw voltage output) – providing a simple, effective, rugged solution to checking the uniformity of growing conditions for many types of growing media.
Precision Irrigation – Accuracy and ease of use make SM150T Soil Moisture Sensors well suited to precision irrigation applications. The SM150T's compact size (143mm total length – rods 51mm long) allows it to be easily installed in plant pots or grow bags. Readings can be used to optimise irrigation scheduling, or the SM150T can be installed as part of an automatic irrigation system.
System integration – The SM150Ts accurate and stable measurement (± 3% for 0-70% VWC** range), simple 0-1 V output (moisture), and low power (18 mA for 1 second) makes it the ideal sensor for system integrators.
Patented sensor electronics produce research-grade accuracy performance alongside exceptional salinity and temperature stability – an essential combination for critical control and precision irrigation decisions.
Industrial rated, UV resistant cable fitted with a waterproof IP68 connector allows the sensor to be buried indefinitely, whilst still permitting easy cable exchange or extension if necessary.
More information is available in the SM150T System Integrator Data Sheet.
Data logging
The SM150T is compatible with all Delta-T Devices Data Loggers and its 0 to 1 V DC output can be handled by most other types of data logger. Temperature measurement (10 K thermistor) requires burial of the probe.
Product history
The new SM150T replaces both the SM300 and SM150 Sensors, combining their strengths and offering great value.
* Extended 5 year warranty requires online registration.
**Volumetric water content


Specification
Measurement
Volumetric water content and soil temperature
Accuracy
± 0.03 m3.m-3 (3%)
With soil-specific calibration
± 0.5°C (0 to 40°C for temp sensor)
± 0.75°C (-20 to +60°C for temp sensor)
Soil moisture measurement range
Full accuracy over:
0 to 0.7 m3.m-3
Full range : 0 to 1.0 m3.m-3
Salinity range
50 to 500 mS.m-1
Salinity errors < 0.035 m3.m-3 from 0.05 to 0.4 m3.m-3. Can be calibrated up to 2000 mS.m-1
Temperature range
Full accuracy over: 0 to 40°C
Output
0 to 1.0 V differential
Corresponding to 0 to ~0.6 m3.m-3
Resistance 5.8Ω to 28Ω for temp sensor
Power requirement
5-14 V, ~18 mA for 1s
Minimum 5 V with 100 m cable
Environmental
IP68 (-40 to +70°C)
Sample volume
~55 x 70 mm diameter
Sample volume is weighted towards soil immediately surrounding the rods
Dimensions and weight
Overall: 143 x 40 mm diameter
Rods: 51 mm x 2.5 mm diameter
Weight: 0.1 kg (exc. cable)
Sensor calibrations
Individual sensors are interchangeable
Recalibration advised every 3 years (depending on use)
Soil calibrations
Generalised Mineral and Organic soil calibrations are supplied
Accessories
Hardware
Main components and software
Cables and networks
Product Resources
Data Sheets
Case Studies
Cranfield University - Using SM150T to improve banana irrigation management in Colombia

SM150T Soil Sensor used by Rothamsted Research for major experiment

3 MB

Download

Filename: Case_Study_Delta-T_Rothamsted_2021

NIAB EMR's WET Centre uses Delta-T soil moisture sensors to achieve record yields

3 MB

Download

Filename: NIAB_EMR_WET_Centre_Case_Study_ver_20_02_2021

Seven brief Delta-T Devices soil moisture sensor case studies

Newcastle University uses SM150T in Iceland erosion research - case study

3 MB

Download

Filename: SM150T_Iceland_erosion_case_study_Newcastle_Uni_v.1
Videos
Manuals
FAQs
How do I use the SM150T Soil Moisture Sensor for side insertion into small growing pots?

Question

How do I use the SM150T Soil Moisture Sensor for side insertion into small growing pots?

Answer

The SM150T sensors are well suited to this application as their pins are thinner and sharper than those of the Delta-T ML3 Sensor. It is often possible to push the pins through the sides of a pot and into the media.
You need to take great care when doing this to:

Minimise compression of the soil. A soft container could mean you squash the sides and deform the soil, which then has an altered bulk density, resulting in the volumetric water content reading being changed.
Minimise movement of the pins inside the container; this can disturb the media, creating air spaces around the pins

If in doubt, pierce the pots before you start (with a small drill, for example).
As an alternative approach for spot-checking, some growers remove the plant, root ball and soil from the pot and then insert the sensor exactly where they want – the sharp pins make this easy. (Once a plant is established, the whole pot contents come out together).

Are Delta-T soil moisture sensors waterproof? Can they be buried? (SM150T ML3 ThetaProbe)

Question

I see that the environmental protection rating for Delta-T soil moisture sensors is IP68. In practical terms what does this mean for the performance of the sensors and their cable connections, and can they be buried?

Answer

The IP68 Standard
The IP standard defines the degree of protection against the entry of water and dust that an instrument has. The first digit corresponds to performance for dust protection, the second figure for the level of water resistance. A rating of IP68 means that a device is completely sealed against dust and that it can withstand complete and continuous submersion in water. More information on the standard can be found here: https://en.wikipedia.org/wiki/IP_Code.
When Delta-T develop products for use in the field, we not only aim to meet the requirements of relevant IP standards, but, where possible, to surpass them. Our product design and testing aims to establish the highest performance we can achieve for the sensor and the cable connection.

Sensor sealing
During the design of the *SM150, SM150T, *SM300 and ML3 sensors, extensive water resistance tests were performed with reference to IP68 standards. Thermal shock tests were also carried out, which involved continuously monitoring the humidity inside the sensor as it was subjected to temperatures above 100OC before being plunged into ice cold water. It was demonstrated that, even under these harsh 'shock' regimes, the sensors showed no signs of water ingress.

M12 connector sealing
During the design stage of the ML3 ThetaProbe (our most recently released sensor) we completed a comprehensive range of tests on the M12 cable connector (also fitted to several other Delta-T soil moisture sensors) to ensure satisfactory water resistance when submerged in water at depth.These tests will continue and results made available. Test results so far indicate that the M12 connection with the soil sensor can withstand burial to a depth of 2m – providing care is taken to ensure the connectors are clean and dry when assembled, and that they are hand-tightened securely.

Routine production testing
*SM300s, *SM150, SM150T and ML3 sensors are batch tested using the hot water leak test – which involves submerging a proportion of sensors from a manufacturing batch in a 60°C water bath for a fixed time whilst checking for bubbles emerging from the sensor or connector. In terms of pressure, this treatment is comparable to an immersion in 1.4m depth of water. We have determined that this an acceptable test to discover assembly errors.

5 year warranty
All Delta-T products will benefit from a 2 year warranty. However, for additional peace of mind, once you have registered your SM150T or ML3 soil moisture sensor with us, the warranty increases from 2 years to 5 years.

*SM300 and SM150 are now discontinued
Regulatory Information
SM150_2004_108_EC_certificate

59 KB

Download

Filename: sm150_2004_108_ec_certificate