Overview
Specification
Accessories
Product Resources
How to Buy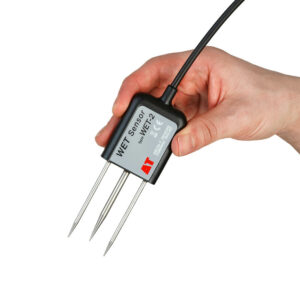 Zoom
Testimonials
"As a progressive agriculture consultancy we've been using the WET Sensor in multiple Indian open-field and hydroponic research projects over the last two years. We've found the sensor to be very robust and easy to use - and the readings it provides to be extremely accurate and consistent. Having extensively tested the sensor across a number of agri-climatic zones, we can happily endorse this instrument as a high quality research tool - that is ideally suited to extreme conditions."
Chetan V Dedhia
CVD Solutions
Mumbai, India
"Optimising the quality and yield of our fruit is a key priority for Clock House Farms. By knowing the exact EC and moisture levels hour by hour we have the data that enables us to react quickly to changing substrate conditions.

It is the immediacy of the data which the WET Sensor provides that is valuable to us, not just the excellent accuracy.

In terms of benefits that the WET Sensor provides, it not only gives us the confidence that we have optimal growing conditions at all times, it has also enabled us to reduce irrigation levels (whilst enhancing produce quality) - eliminating unnecessary water wastage and reducing expensive fertiliser costs." Nick Deppe, Farm Manager
Clock House Farm, Kent, UK
"We have used the Delta-T Wet Sensor since its introduction. This device has allowed us to have precise control over the EC in our strawberry and raspberry substrate grown crops; delivering better quality, flavour and yields. We could not manage without this excellent tool now."
Harriet Duncalfe
H&H Duncalfe, UK
"We've successfully integrated a large number of Delta-T Devices WET Sensors into our measurement systems. We use them continually - to provide EC, moisture and temperature measurements. This valuable data helps our customers to improve the yield and quality of commercial Cucumber and Tomato crops."
Martin Drop
Hortitechnic, UK
Moisture and nutrient status in the root zone
Rapid monitoring of growing conditions
Calibrations for many soils and substrates
The WET Sensor has crucial applications in precision horticulture and soil science research and is usable in both soils and growing substrates. It is exceptional in its ability to measure pore water conductivity (ECp), the EC of the water that is available to the plant.
Video – The Wet Sensor's use in commercial horticulture
Rapid checks on growing conditions
The sensor is easily inserted into substrates, composts and most soils. It takes less than 5 seconds to measure water content (%), pore water conductivity (ECp) and temperature – all being important indictors of root zone health.
Pore water conductivity
The WET Sensor is able to calculate pore water conductivity (ECp) which is the EC of the water available to plant roots. The ECp calculation is derived from an approximate relationship between dielectric properties. This applies particularly well to WET Sensor readings, which are taken at the same frequency within the same defined region of soil/substrate. The approximation is valid in most soils and is particularly accurate in mineral wool and other artificial substrates media.
Fertigation and hydroponics
Where plants are grown in artificial substrates using hydroponic or fertigation systems, nutrients are routinely supplied in irrigation water. Nutrient levels are controlled by monitoring the water content and conductivity (EC) and adjusting the injection of liquid fertiliser into the irrigation water. The Delta-T Devices WET Sensor excels in monitoring this crucial information.
Container-grown shrubs and trees
Nutrients are sometimes provided by fertigation but are often provided by Controlled Release Fertilisers (CRF). The rate at which these are taken up depends on several factors, including the weather conditions and irrigation regime.
The Delta-T Devices WET Sensor can be used to measure the EC within the growing media and so take much of the guesswork out of this process.
Soil salinity
If the irrigation water is recycled or abstracted from rivers and aquifers with high levels of dissolved salts, over time there can be a build up of soil salinity. Soil salinisation will eventually reduce crop yields. The WET Sensor is fast and efficient for sampling soil salinity, ensuring that farmers have the essential information they need to take remedial action as quickly as possible.
WET Kit
WET Sensors are normally ordered as a complete kit that includes a WET Sensor, an HH2 Moisture Meter and a handy carry case. There are three types of Kit – each with a different set of substrate calibrations. Please download our Soil Moisture Measurement catalogue for further details.
Readout and data logging
For portable applications, readout and data storage are handled by the HH2 Moisture Meter. Alternatively, the WET Sensor can be connected to the GP1 Data Logger or GP2 Data Logger and Controller, making it possible to monitor growing conditions over a period of hours, days or longer. The smart relay capability in these data loggers allows them to control water content in response to EC or temperature.
WET Sensors used aboard China's Tiangong-2 Space Station
The WET Sensor has been used by Chinese astronauts to conduct horticultural experiments in space. find out more.
Soil and horticultural substrate calibrations
If the WET Sensor is purchased with an HH2 Moisture Meter (as part of the WET Kit) it will be equipped with calibrations for generic mineral soils, organic soils, sand soils, clay soils, coir (coco fibre), peat based potting mixes, greenhouse 'mineral' soils, and Stonewool artificial mineral wool substrate (vertical and horizontal measurement).
If the WET Sensor is used with a GP1 Logger or GP2 logger it will be equipped by default with calibrations for generic mineral soils, organic soils, sand soils and clay soils. Two additional calibration upgrade packs are available – one of which contains calibrations for coir (coco fibre), peat based potting mixes, and greenhouse mineral soils, and one which contains Stonewool artificial wool substrate (vertical and horizontal measurement). See the accessories section of this page for more details.
Acknowledgements


Specification
Measurement

volumetric water content

Pore water conductivity

Temperature

Accuracy

± 0.03 m3.m-3 (3%)

see graph below

± 1.5°C

Soil moisture measurement range

Full accuracy over:


0 to 1 m3.m-3

see graph below

0 to 50°C

Salinity range

0 to 300 mS.m-1
Supplied with extended range calibrations which should be used for readings between 300 to 500 mS.m-1
Temperature range
-5 to 50°C
Output
Serial TTL data providing permittivity, bulk conductivity and temperature, from which water content and pore water conductivity are calculated
Power requirement
6-10 V, ~38 mA for 2.5s
Environmental
IP68
Sample volume
~500 ml
Sample volume is weighted towards soil immediately surrounding the rods
Dimensions and weight
Overall: 120 x 45 x 13 mm
Rods: 68 mm x 3 mm diameter
Outer rods 68mm x 3.0 mm dia
Central rod 65 mm x 5.0 mm dia
Weight: 0.1 kg
Sensor calibrations
Sensor calibrations supplied in WET Sensor EEPROM
Recalibration advised every 3 years (dependent on use)
Soil calibrations

Generalised Mineral ,Organic, Sand and Clay calibrations are supplied, specialist calibrations are available for horticultural substrates (please enquire at sales@delta-t.co.uk for more information) .
Accessories
Spares and consumables
Product Resources
Data Sheets
WET Sensor Data Sheet

2 MB

Soil Moisture Measurement Catalogue

14 MB
Case Studies
Optimising growing conditions and irrigation efficiency in high volume soft fruit production

Download

Filename: wet_clock-house_case_study_ver_1_web

Turkish grower SBR benefits from WET Sensor multi-parameter soil readings

2 MB

SBR staff have been using the Delta-T Devices WET Kit since 2018 to help manage their hydroponic strawberry production.

Download

Filename: Case_Study_SBR_WET_Sensor_2021

Seven brief Delta-T Devices soil moisture sensor case studies
Videos
Manuals
FAQs
How do I upload the WET sensor calibration file into the HH2 handheld reader unit?

Question

How do I upload the WET sensor calibration file into the HH2 handheld reader unit?

Answer

This can sometimes happen if the battery connector terminals are accidentally shorted out when changing the battery or if the user takes longer than 30 seconds to replace the battery. If this happens, the HH2 is cold booted, the memory is erased and the factory default settings are restored.

You will need to re-load the WET calibration file back onto the HH2:

1. Quick method for users with HH2 firmware 2.9 or above (Aug 2017).
Requirements:
HH2 firmware version 2.9 or above.
WET sensor serial number: WET-27/001 or later.

• Connect the WET sensor to the HH2

• Turn the HH2 on> press SET> scroll up to 'Load WET Cal'> press SET> scroll to 'Load Standard' (default) or 'Load extended' (if you are using the WET sensor in high salinity conditions)> press SET.

• The HH2 will display 'Reading Calib'n', then say 'Calib'n Loaded'. Press Esc back to the main menu and take a reading – the WET sensor should now be automatically selected and will take a reading.

• If the HH2 displays 'Cal Read ERR', then the WET sensor may have a problem or be too old to work with this function. Contact Delta-T or try the normal PC method below.

• Don't forget to check other settings such as temperature compensation, units and soil type.

• If you want to verify the cal file has been installed, go to options>status>versions>WET Calib'n to check the number matches your sensor. If the file starts with 'WET' you have the standard calibration loaded in and if the file starts with 'WEX', you have the extended calibration loaded in.


2. Normal PC method

• Install the 'HH2Read' software on to your computer – if necessary, you can download it from our website: https://www.delta-t.co.uk/software-downloads.asp.

• The calibration file, for older WET sensors, is supplied on the CD that comes with the WET sensor (picture of a WET sensor on the CD, with the serial number on). If you don't have this CD, or your computer doesn't have a CD drive, you can download the file directly from our website: https://www.delta-t.co.uk/product/wet-2/#support. Alternatively, contact Delta-T tech support and we'll send you the calibration file via email.

• Connect the HH2 to your PC using the 25w to 9w adaptor and the serial cable (2 separate parts).
If your computer does not have a 9pin serial port in the back of it, you will need to purchase a USB to RS232 adaptor. We can provide one of these, if necessary (sales code: USB-RS232), or you can purchase one locally. If you do purchase one locally we recommend that it has an 'FTDI' chipset in it.

• If you have stored any readings, you'll need to erase the data:
Turn the HH2 on> press SET> scroll to data> press SET> scroll to erase> press SET> scroll to YES> press SET.

• Make sure the HH2 is switched off before trying to communicate with it:
Press the ESC key to exit out of the menu structure, then press ESC once more to turn the unit off. Alternatively wait for it to go to sleep automatically after 30 seconds.

• Run the PC program HH2Read (you need version 1.82 or later).

• If you have the CD, insert into your CD drive on the computer.

• In HH2Read select Install> Sensors Calibration> WET Sensor.

• Navigate to the CD drive on your computer or the PC save location, if you downloaded form our website. Then select the WET sensor calibration file.

• In a few minutes the program should report the calibration file successfully installed.

• Once the file has been loaded back on, please select the WET sensor device option in the HH2:

◦ Turn the HH2 on
◦ Press the SET button
◦ Scroll down to Device
◦ Press SET
◦ Scroll down to WET sensor
◦ Press SET

• Don't forget to check other settings such as temperature compensation, units and soil type.

You should now be ready to take readings again.

WET Sensor – What's the difference between the 'WEX' calibration file and the 'WET' calibration file?

Question

WET Sensor - What's the difference between the 'WEX' calibration file and the 'WET' calibration file?

Answer

On the CD media with the WET-2 Sensor, an additional calibration 'WEX' file has been routinely included to cover an extended range of conditions.

The extended calibration file improves the accuracy of soil moisture readings taken in higher levels of conductivity and soil moisture. This document explains when to use the extended calibration file.

Identifying Calibration Files
The standard WET calibration file is named WETnnnnn.cal where nnnnn is the serial number of the WET Sensor (e.g. 27068: batch 27 number 068).

The extended range WET calibration file is named WEXnnnnn.cal

Recommended Use
The expected accuracy envelope of the WET sensor over a range of different pore water conductivities and soil moisture contents is given in the WET Sensor User Manual v1.4, pp21-23.

The recommendation is as shown in the diagram. It applies to the organic soil setting and also to additional horticultural and artificial substrates (available as WET-GH, -ST, and former -CL upgrades).

Use the extended range calibration only for readings that fall in the region indicated.

Readings that fall in the standard region can be taken with the extended calibration, but they may incur somewhat larger errors of soil moisture than with the standard calibration.

If the standard calibration is used in the extended region, soil moisture values can be significantly in error.

Availability
WET Sensor extended calibration files on CD were introduced from WET-2 batch 26-070.

If you have lost your files please download them from our website here: https://www.delta-t.co.uk/product/wet-2/#support. Alternatively, contact Tech Support by email with the serial number of your WET sensor and we can email them to you.
Technical Notes
Get the most from your WET Sensor

4 MB

An illustrated one page guide to realizing the potential of the WET Sensor

Download

Filename: get_the_most_from_your_wet_sensor_pdf_ver-1
Sensor Calibration File Locator
Input your 5 digit serial number below (do not include a slash or space) to download your WET Sensor calibration file. (Example: 28073).
IMPORTANT: If your serial number only has 4 digits, for example 22/19 – please add a zero before the last two digits – i.e. 22019
The serial number can be found on the sensor's blue cable label. Contact tech.support@delta-t.co.uk if your serial number is not recognised - and we will assist you directly.