Overview
Specification
Accessories
Product Resources
How to Buy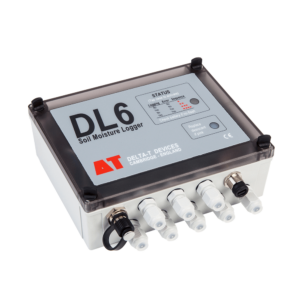 Zoom
Testimonials
Ideal for Profile Probes, ThetaProbes and SM150T sensors
8 channel logger with weather-proof case and battery power
Compatible with DeltaLINK-Cloud online data sharing platform
DeltaLINK-Cloud – free online data service
The DL6 is a dedicated data logger optimised for use with Delta-T soil moisture sensors. It can be used with combinations of ThetaProbes, SM150T Soil Moisture Sensors and Profile Probes, and also accepts rain gauge and soil temperature probe inputs. Up to 16000 readings can be stored in memory.
The DL6 can record data from:
6 soil moisture sensors (or other analog voltages)
1 temperature sensor
1 pulse counter (e.g. rainfall)
DL6 – perfect partner for Profile Probes
The DL6 provides a cost-effective solution for logging Profile Probes. It handles a PR2/6 (100 cm depth) or a PR2/4 (40 cm depth). The IP68 cable makes connection easy, and the DL6 PC software simplifies sensor configuration and data collection.
Designed for field use
The DL6 is well suited to both research applications and irrigation monitoring. To minimise the need for opening the case, data is collected via an external RS232 socket, and the status of the logger can be checked using a vibration-activated LED. DL6 Loggers include a novel accelerated logging feature to allow the tracking of wetting fronts.
Storage, communications and power
The DL6 has a storage capacity of 16K readings (typical). Data can be collected by a laptop locally via RS232 or remotely using the cellular modem options.
The DL6 has 6 alkaline AA internal batteries as standard. Up to 10 DL6s can share communications using an M8 cabling network.
DeltaLINK‐Cloud – free online data service

Specification
Input connections
6 voltage channels
1 temperature
1 counter
Control outputs
1 relay (1 A)
Readings stored
16,000
Recording rate
1 second to 24 hours
Configuration
DeltaLINK
Communication options
RS232, USB [1] or modem
Sensor excitation
1 switched logger power
Power
6 AA alkaline batteries
Battery life (dependent on usage)
>230k readings, lasting >400 days
Enclosure rating
IP67
Temperature range
-10 to +50°C
Display
–
Size
180 x 160 x 70 mm
Typical application

Monitoring soil moisture profiles
Sensor compatibility (maximum number of sensors that could be connected
ML3
✓ (1) with temp (5) excl. temp
SM150T
✓ (1) with temp (5) excl. temp
PR2
✓ (1)
PR2 SDI-12
–
WET Sensor
–
EQ3
✓ (1) with temp (5) excl. temp
Temperature
✓(1)
Tensiometers
–
Counters or Events
✓(1)
Relay Output
✓(1)
[1] With USB to RS232 Adapter Cable type USB-RS232
Accessories
Main components and software
Mountings and enclosures
Cables and networks
Power options