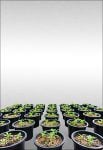 An accurate precision irrigation system can help ensure that nursery plants receive the correct amounts of water, at the correct times – optimising their health and quality.
Delta-T Devices instruments can form the heart of such a system – providing class-leading soil and substrate sensors which measure water content, temperature, and pore water conductivity (ECp). We also supply cloud-linked data loggers with relay functionality to control irrigation systems.
Delta-T Devices works closely with some of the world's leading research institutes to bring the benefits of new technologies to growers. Our research-grade products provide the reliable data required to optimise precision irrigation regimes.
Moisture Sensors
Data Loggers
Weather Stations