Overview
Specification
Accessories
Product Resources
How to Buy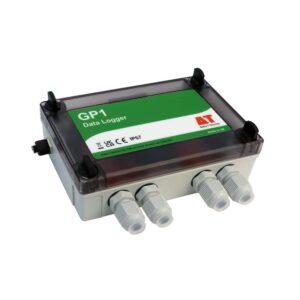 Zoom
Testimonials
High accuracy 7 channel data logger
600,000 readings
Free use of DeltaLINK-Cloud data sharing service
Smart relay control
DeltaLINK‐Cloud – free online data service
The GP1 Data Logger is a complete logging solution housed in a waterproof IP67 enclosure with battery power. The internal memory can hold >600,000 readings – more than enough for one year's operation (typical).
The GP1 can log up to:
2 differential analogue voltages
2 temperature channels
2 pulse counters
As well as being a powerful general purpose logger, the GP1 is ideal for soil moisture applications and can log:
2 soil moisture sensors e.g. ThetaProbes or SM150Ts
2 temperature probes
2 pulse counters (e.g. rainfall or water meter)
1 WET Sensor
The optional GP-PBA-X50 Precision Bridge Adapter enables a GP1 to log up to 2 bridge sensors such as pressure transducers and strain gauges.
When connected to 1 or 2 ThetaProbes or SM150T Soil Moisture Sensors, the GP1 Logger provides simple high accuracy recording of moisture content (as well as rainfall and temperature).
Irrigation control
The GP1 Data Logger, running DeltaLINK Software, can control irrigation directly from the soil moisture (and/or rainfall and/or temperature) or act as a sophisticated interface between these sensors and many types of programmable timer.
Start and Stop control levels can be separately configured and there's even an option for pulsing the output when it's desirable to match the water application rate to the soil's infiltration capacity.
NB: Our GP2 Advanced Data logger and Controller offers even more advanced irrigation control capabilities.
DeltaLINK PC Software
DeltaLINK PC Software is supplied free with all GP1, GP2 and DL6 data loggers. DeltaLINK allows you to set up the logger input channels and recording parameters, check readings from connected sensors, and collect & display data.
Clear graphic display
Full configuration
Storage, communications and power
1 MB of FLASH memory enables storage of 600K readings (typical). Data can be collected by a laptop locally via RS232 or via USB (USB to RS232 Adaptor Cable type USB-RS232 required), or remotely using the cellular modem options.
The GP1 has 1 PP3 internal battery as standard. Up to 10 GP1s can share power and communications using an M8 cabling network. GP2 Data Loggers can be integrated into such a network via an adapter cable.
Applications
Soil Science, Plant Physiology, Agronomy, Climate Research and Meteorology
Horticulture, Agriculture, Turf and Gardens-Amenity Landscaping

Specification
Input connections
2 voltage channels
2 temperatures or 2 additional SM150T Sensors [3]
2 counters (33 kHz & 50 Hz)
1 WET Sensor
Control outputs
1 relay (1 A)
Readings stored
600,000
Recording rate
1 second to 24 hours
Configuration
DeltaLINK
Communication options
RS232 USB [1] or modem
Sensor excitation
1 switched logger power
15 V precision reference
Power
9 V 6LR61 (PP3) alkaline or external power 11-24 V
Battery life (dependent on usage)
>76k readings
lasting >130 days
Enclosure rating
IP67
Temperature range
-20 to +60°C
Display
–
Size
140 x 105 x 45 mm
Typical applications
Monitoring soil moisture
General data logging
Controlling irrigation
Sensor compatibility (maximum number of sensors that could be connected [2]
ML3
✓ (2) with temp ✓ (4) excl. temp [3]
SM150T
✓ (2) with temp ✓ (4) excl. temp [3]
PR2
–
PR2 SDI-12
–
WET Sensor
✓(1)
EQ3
✓(2 as mV only)
Temperature
✓(2)
Tensiometers (bridge sensors)
✓(2) each requires GP-PBA-X50
Counters or Events
✓(2) 1 fast 1 slow
Relay Output
✓(1)
[1] With USB to RS232 Adapter Cable type USB-RS232
[2] With appropriate expansion cards and power supply arrangements
[3] Temperature channels provide only single-ended inputs so should not be used with long cables or in noisy environments when used with soil moisture sensors. The accuracy figures quoted for GP1 soil moisture readings do not apply to these resistance channels when configured as soil moisture inputs.
For full GP1 specification please see the GP1 data sheet or Quick Start Guide
Accessories
Main components and software
Mountings and enclosures
Cables and networks
Power options
Product Resources
Data Sheets
GP1 Data Logger Data Sheet

2 MB

WS-GP1 Weather Station Data Sheet

1 MB

DeltaLINK-Cloud - online data viewing and sharing service

2 MB

Environmental and Meteorological Sensor Specifications

5 MB

WS-GP1 Weather Station - Quick Slide Show

1 MB
Case Studies
Seven brief Delta-T Devices soil moisture measurement case studies