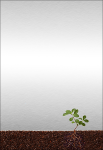 Delta-T Devices specialises in accurate, reliable soil moisture measurement, and we provide high quality soil moisture sensors for scientific research and horticulture.
Our comprehensive soil moisture measurement range includes soil moisture sensors suited to a wide range of applications and budgets. The accuracy, stability and reliability of our soil moisture sensors has made them the preferred choice of thousands of researchers world-wide.
Many of our moisture sensors also offer measurement of additional parameters, such as soil temperature and soil electrical conductivity (EC).
Our moisture measurement sensors are also ideally suited to a large range of non-soil substrates and growing media, including coir, mineral wool and peat.
Soil Moisture Sensors
Data Loggers and Meters
The Science behind Delta-T Devices Soil Moisture Sensors

Measuring soil moisture is essential for understanding and managing water resources, agricultural practices, environmental conservation, climate research and plant growth. Various scientific methods have been developed to determine soil moisture content, each with its strengths and limitations.
The reference standard procedure for obtaining soil moisture measurements is the gravimetric method. This approach involves weighing soil samples before, and after, oven drying. While this method offers high accuracy, it is time-consuming, labour-intensive, and requires samples to be sent to a lab. It is therefore unsuitable for instant spot measurements or continuous monitoring.
Other ways in which soil moisture levels can be measured or inferred include neutron probe, time domain reflectometry, cosmic rays to infrared, and microwave emission (via satellite imaging) approaches. Delta-T Devices sensors employ a proven and highly effective capacitance-based method.

Delta-T Devices and the Capacitance Approach
Over the last 30 years Delta-T Devices has evolved and refined a soil moisture measurement method based on the dielectric properties of materials – which offers accuracy levels close to the reference gravimetric approach, but at much lower cost and with much improved speed and convenience.
Permittivity is a measure of a material's response to polarisation in an electromagnetic field. Water molecules have a higher permittivity than soil minerals and air – and the higher the soil moisture content, the greater the dielectric permittivity and capacitance.
When inserted into soil, our sensors electronically process changes in capacitance and convert them into meaningful moisture readings, e.g. %VWC (percentage volume water content). These readings can be displayed on an instant readout unit – or transmitted to a data collection system for further analysis.
This non-destructive technique provides real-time and continuous monitoring, making it ideal for both instant spot-readings and long-term installation.
Much of Delta-T Devices' expertise lies in implementing effective dynamic correction methods that enable our sensors to produce accurate moisture readings regardless of the temperature and salinity of soil measured (both are factors that affect soil dielectric permittivity).

The Advantages of Capacitance Based Soil sensors
High Accuracy and Precision
One of the primary benefits of the capacitance approach is its excellent precision and response speed. Our sensors are capable of providing measurements with high resolution, detecting even slight changes in soil moisture content.
This level of sensitivity and responsiveness gives researchers access to highly detailed data – and enables growers to make informed real-time decisions regarding irrigation scheduling, leading to more efficient water/fertigation usage and reduced water wastage.
Minimal Soil Disturbance
Traditional methods of measuring soil moisture often involve extracting samples, leading to soil disturbance and potential alterations in moisture levels. The capacitance approach, however, requires minimal soil disruption, as the compact low-maintenance sensors can be buried at the desired depth and left in place for continuous monitoring.
This non-destructive characteristic makes our sensors suitable for long-term environmental research.
Depth Profiling Capabilities
Capacitance sensors can be installed at multiple depths within the soil profile, providing invaluable information about moisture distribution throughout the root zone.
This depth profiling capability allows researchers and growers to identify the optimal depth for root development and ensure the efficient utilization of water by crops. As a result, irrigation strategies can be adjusted to target the specific moisture needs of plants at different growth stages.
Real-time Monitoring and Data Logging
Capacitance sensors can be connected to data loggers and wireless/cloud systems – which enable remote real-time monitoring of soil moisture levels and comprehesive data management.
This live data stream allows for rapid response to changing environmental conditions, such as rainfall events, which can have significant impacts on soil moisture. Users can access this information remotely (via alerts, widget displays or charts) and make prompt control decisions based on the data. Learn more on our DeltaLINK-Cloud page.
Adaptability to Various Soil Types
Unlike some traditional soil moisture measurement techniques that may be limited to specific soil types, the capacitance approach demonstrates impressive adaptability.
Our sensors can be calibrated to account for soil variations, ensuring accurate readings across a wide range of soil textures and compositions. This versatility is especially beneficial for agricultural practices/research that involve managing multiple soil and growing media types.
Delta-T's extensive expertise in the area of calibration (earned through decades of in-house research) is a key factor in the high performance of our sensors across a wide range of soil types and substrates.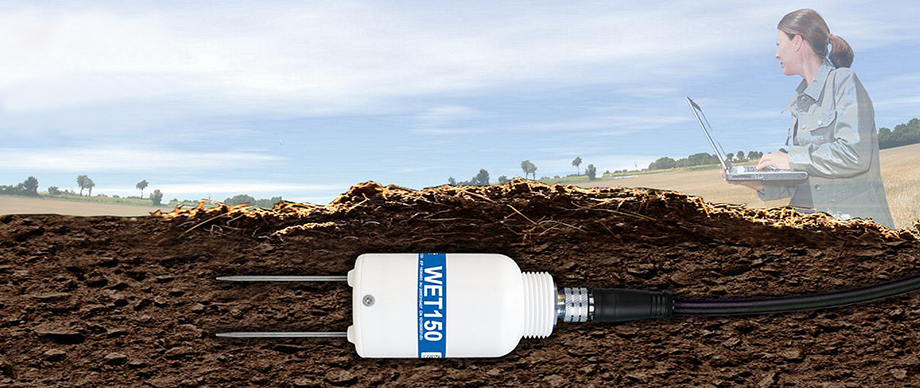 By harnessing the principles of electrical capacitance, Delta-T Devices sensors offer an accurate and efficient means of measuring soil moisture content. Their ability to provide reliable real-time data empowers users to optimize water usage, improve crop yield, and contribute to sustainable land management practices.
Our soil moisture and soil substrate measurement range includes the following sensors:
WET150 Multi-Parameter Soil Sensor (SDI-12)

The digital WET150 Sensor enables rapid measurement of soil moisture, temperature, and electrical conductivity – and provides an SDI-I2 enabled solution for real-time monitoring of growing conditions. SDI-12 is an interface for connecting digital sensors to an SDI-12 master device such as a logger or irrigation controller. A key strength of SDI-12 is that it supports the connection of up to 62 sensors to a single input on a compatible device.
The WET150 can provide the high-quality data required to power effective SDI-12 automated irrigation systems. The watertight build of the WET150 also makes it ideal for use in field agriculture applications.

SM150T Soil Moisture and Temperature Sensor

The SM150T measures soil moisture and temperature with research-grade accuracy. It offers precision, and reliability at a great price.
The SM150T Soil Moisture Sensor has exceptional salinity & temperature stability – and can withstand long-term burial (IP68). It provides moisture accuracy of ± 3% (after soil specific calibration) and temperature accuracy of ± 0.5°C
For portable use the SM150T is available in the form of the SM150 Kit, complete with HH150 readout meter and carry case.

ML3 ThetaProbe

The ML3 ThetaProbe is known world-wide for its accuracy, reliability and ease of use.
For continuous monitoring (including temperature measurement) the ML3 ThetaProbe soil moisture sensor can be left buried in the ground, connected to a data logger such as the Delta-T GP2 or GP1. The ML3 ThetaProbe can also be used portably with the HH2 Meter to make rapid spot readings of soil moisture.

WET-2 Sensor

The WET Sensor measures three vital properties of substrates: water content, EC and temperature.
Readout and data storage are handled by the HH2 soil moisture meter, which also holds the selected generic soil or specialist media calibrations. Alternatively the WET Sensor can be connected to a GP2 or GP1 data logger.
The compact sensor can be inserted directly into the growing medium with minimal disturbance to roots or shoots.

PR2 Profile Probe

The PR2 Profile Probe enables you to measure and monitor soil moisture profiles with ease and flexibility. Install an access tube into the soil, insert the PR2 soil moisture probe and press the HH2 read button to display an instantaneous reading. Or, alternatively, connect the PR2 to a data logger (GP2, DL6 or DL2e) and leave the system to record moisture changes over time.
The PR2 soil moisture probe is built around patented sensing technology which provides good performance in most soil types. The PR2/4 model measures at 4 depths down to 40cm or the PR2/6 model measures at 6 depths down to 100cm.