Overview
Specification
Product Resources
How to Buy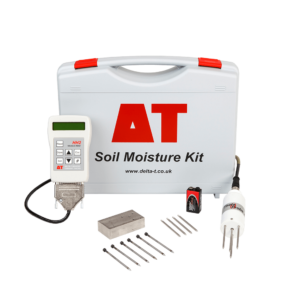 Zoom
Testimonials
"We have ThetaProbe sensors installed at another site, some of them have been running for 8 years now and we've found them very reliable, so we'd like to use Delta-T Devices sensors again."
Anu Riikonen, PHD Student
Department of Forest Ecology, University of Helsinki
Class leading ± 1% soil moisture accuracy
Complete kit with readout unit & case
The ML3 ThetaKit provides researchers with a portable tool for highly accurate, near instantaneous measurement of moisture levels in soils and substrates.
The ThetaKit is easy to use. Simply switch the connected HH2 Moisture Meter on, insert the probe pins fully into the soil, and press the HH2's "read" button to display the moisture measurement. Readings can then be stored with a single button press (if required) – and downloaded to PC later.
The kit comprises an ML3 ThetaProbe Soil Moisture Sensor, an HH2 Moisture Meter (readout unit), replacement sensor rods, and a carry case.
Click here for details on the ML3 Sensor
NB: Other moisture measurement kits are available if lower cost or EC measurements are required.
ThetaKits are an excellent choice for turf grass applications.


Specification
Measurement
Volumetric water content and soil temperature
Accuracy
± 0.01 m3.m-3 (1%)
With soil-specific calibration
± 0.5°C (0 to 40°C for temp sensor)
± 0.75°C (-20 to +60°C for temp sensor)
Soil moisture measurement range
Full accuracy over:
0 to 0.5 m3.m-3
Full range : 0 to 1.0 m3.m-3
Salinity range
50 to 500 mS.m-1
Salinity errors < 0.035 m3.m-3 from 0.05 to 0.4 m3.m-3. Can be calibrated up to 2000 mS.m-1
Temperature range
Full accuracy over: 0 to 40°C
Output
0 to 1.0 V differential
Corresponding to 0 to ~0.6 m3.m-3
Resistance 5.8Ω to 28Ω for temp sensor
Power requirement
5-14 V, ~18 mA for 1s
Minimum 5.5 V with 100 m cable
Environmental
IP68 (-40 to +70°C)
Sample volume
~60 x 30 mm diameter
Sample volume is weighted towards soil immediately surrounding the rods
Dimensions and weight
Overall: 158 x 40 mm diameter
Rods: 60 mm x 3.2 mm diameter
(Rods are replaceable)
Weight: 0.1 kg (exc. cable)
Sensor calibrations
Individual sensors are interchangeable
Recalibration advised every 3 years (depending on use)
Soil calibrations
Generalised Mineral and Organic soil calibrations are supplied
HH2 Meter
| | |
| --- | --- |
| Input connections | 1 water content sensor or 1 WET Sensor |
| Control outputs | – |
| Readings stored | 1,500 |
| Recording rate | – |
| Configuration | By keypad |
| Communication options | RS232 / USB [1] |
| Sensor excitation | 1 switched battery |
| Power | 1 9V 6LR61 (PP3)alkaline |
| Battery life (dependent on usage) | ~ 5,000 readings |
| Enclosure rating | IP54 |
| Temperature range | 0 to +40°C |
| Display | 2 line x 16 character |
| Size | 125 x 80 x 45mm |
| Typical applications | Instantaneous reading of soil moisture / profiles/ WET Sensor |
Accessories
Main components and software
Product Resources
Data Sheets
Case Studies
Seven brief Delta-T Devices soil moisture sensor case studies
Videos
Manuals
FAQs
How do I cold boot (reset) the HH2 Moisture Meter Readout Unit?

Question

How do I cold boot (reset) the HH2 Moisture Meter Readout Unit?

Answer

To cold-boot the HH2 proceed as follows:

Disconnect the battery.
Short out the battery connection terminals with a metal object, e.g. a screwdriver blade.
Reconnect the battery: snap the connector in place in a single continuous action.
While doing so, observe the display and ensure that:
a) the entire display blacks out
b) no error messages are displayed
c) the title screen 'Delta-T Devices Moisture Meter' is displayed.

As all volatile memory will be cleared, you'll have to check your settings are ok (soil calibration, for example) and change if necessary. Also, if you are using a WET sensor, you'll have to load the WET calibration file back on (see other FAQ about this).

Are Delta-T soil moisture sensors waterproof? Can they be buried? (SM150T ML3 ThetaProbe)

Question

I see that the environmental protection rating for Delta-T soil moisture sensors is IP68. In practical terms what does this mean for the performance of the sensors and their cable connections, and can they be buried?

Answer

The IP68 Standard
The IP standard defines the degree of protection against the entry of water and dust that an instrument has. The first digit corresponds to performance for dust protection, the second figure for the level of water resistance. A rating of IP68 means that a device is completely sealed against dust and that it can withstand complete and continuous submersion in water. More information on the standard can be found here: https://en.wikipedia.org/wiki/IP_Code.
When Delta-T develop products for use in the field, we not only aim to meet the requirements of relevant IP standards, but, where possible, to surpass them. Our product design and testing aims to establish the highest performance we can achieve for the sensor and the cable connection.

Sensor sealing
During the design of the *SM150, SM150T, *SM300 and ML3 sensors, extensive water resistance tests were performed with reference to IP68 standards. Thermal shock tests were also carried out, which involved continuously monitoring the humidity inside the sensor as it was subjected to temperatures above 100OC before being plunged into ice cold water. It was demonstrated that, even under these harsh 'shock' regimes, the sensors showed no signs of water ingress.

M12 connector sealing
During the design stage of the ML3 ThetaProbe (our most recently released sensor) we completed a comprehensive range of tests on the M12 cable connector (also fitted to several other Delta-T soil moisture sensors) to ensure satisfactory water resistance when submerged in water at depth.These tests will continue and results made available. Test results so far indicate that the M12 connection with the soil sensor can withstand burial to a depth of 2m – providing care is taken to ensure the connectors are clean and dry when assembled, and that they are hand-tightened securely.

Routine production testing
*SM300s, *SM150, SM150T and ML3 sensors are batch tested using the hot water leak test – which involves submerging a proportion of sensors from a manufacturing batch in a 60°C water bath for a fixed time whilst checking for bubbles emerging from the sensor or connector. In terms of pressure, this treatment is comparable to an immersion in 1.4m depth of water. We have determined that this an acceptable test to discover assembly errors.

5 year warranty
All Delta-T products will benefit from a 2 year warranty. However, for additional peace of mind, once you have registered your SM150T or ML3 soil moisture sensor with us, the warranty increases from 2 years to 5 years.

*SM300 and SM150 are now discontinued